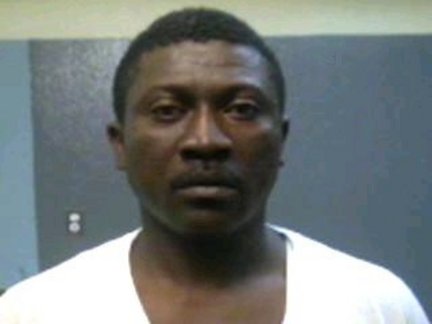 Rundy Charles Robertson supervised a group of people who were hired to clean up oil from the beaches of Pascagoula, Mississippi.  One day in June he offered one of his workers a ride home, then asked to use the restroom in her motel room.  When he emerged from the bathroom, the victim states he raped her.
Robertson was working for Aerotek, a subcontractor for Miller Environmental Group, the company contracted by BP to aid in the clean-up efforts in Mississippi.  No background check was ever conducted on Robertson, only drug screening.  A background check would have revealed a long history of violence dating back to 1991, including contributing to the delinquency of a minor and cruelty to children.  In 1996 he was put on the national sex offender registry, and also received a conviction in 2003 in Georgia for cruelty to children.  He was arrested and charged with sexual battery and failure to register as a sex offender and is being held in Jackson County, MS jail on $505,000 bond. 
BP claims that they conduct full background checks on its employees and its long-term contractors but they claim that the responsibility for the background checks of short-term contractors falls into the hands of the subcontractors.  Miller Environmental Group was not required to conduct them to obtain the BP contract.   Aerotek, a staffing agency, claims they were never required to conduct background checks in order to supply workers to Miller Environmental Group.  Jackson County Sheriff Mike Byrd stated that his department would have done the background checks for free, but were never asked to do so.  Several weeks before the alleged rape took place, Sheriff Byrd met with the head of BP security, who told him they were not conducting background checks on any of the workers.  Sheriff Byrd believes this entire situation could have been prevented with a simple background check.  Approximately three weeks after this incident, Miller Environmental Group "informed Aerotek that it wanted criminal background checks conducted on current and future temporary employees assigned to the oil spill clean-up effort", according to CNN.
Background checking contractors and subcontractors is an additional expense that companies don't want to be burdened with, especially in our current economic climate.  Yet this is a prime example of how a few dollars (or in this case, simply time) spent on background checking your workers could save millions in bad press, litigation and loss of respect and reputation.  Even volunteer and non-profit organizations should conduct at least minimal checks for their own protection.
Many companies are intimidated by the cost of background checks, and want to spend money on what they consider "necessary expenditures", not seemingly frivolous costs like background checks.  While many companies find it necessary to background check employees, they think nothing of hiring a subcontractor without putting them through a screening process.  The safety of your crew, your clients and your reputation should always be at the forefront of your mind. 
In addition to background checks, contractors also generally need to complete I9 verifications on their workers.  This not only verifies that they have a valid Social Security Number and the right to work in the US, but also runs their names through the Department of Homeland Security, to ensure they aren't on any government watch lists.  A background check on a male worker, including Social Security Trace and Verification, I9 verification, National Database Search/Sex Offender Registry and County Criminal searches totals $35 per applicant on average.  BP's pay rate for clean-up workers is $200 per day per crew member.  Running background checks on 100 workers would cost roughly $3,500.  Running background checks on the reported 10,000 oil spill clean-up workers would have cost BP and its subcontractors well under $500,000.  That cost, compared to the loss of multi-million dollar contracts and the costly litigation these companies now face seems minimal.
Subcontractors come in many forms: they could be the temp you hire for a few days, the tech person installing your computer network, the crew building an addition to your house.  All of these unknown persons will have access to you, your company, your product, computer systems, clients, workers and possibly your home.  Is it not worth the money to make sure they are up to par with your standards? And the bigger question in a situation like this, where should the responsibility lie? 
Jeff Reichert, Aerotek General Counsel stated, "We are not liable for anything that happens.  Once we deliver the people to be supervised by our client, we don't have anything to do with them anymore."
Miller Environmental Group has not made a public statement regarding this incident.
Robert Wise, BP Spokesman, stated, "This was not done for all contractors in this response; the responsibility lies with the employing company for their own staff.  The requirement on sub-contractors to BP's contractors is one further step beyond BP's scope of control."
As this story unfolds, it would not surprise me if all three companies were found liable for this situation.  They all could have performed due diligence to ensure that Rundy Charles Robertson was not hired, not made a supervisor and not given him access to another victim.